Structure de l'espace public numérique
How does information circulate in digital public space?
With the advent of digital technology, the public space has entered an area of intense turbulence. Yet despite its apparent disorderliness, this space does have a distribution of authority, an architecture of visibility, and information circuits of its own.
With the advent of digital technology, the public space has entered an area of intense turbulence. The Web and social networks have profoundly changed the way information is produced and accessed. As the cost to Internet users of online publication and expression has lowered, the volume of information available has grown exponentially. Professional media journalists are seeing the erosion of their power to prioritize and frame the public agenda. At the same time, a series of new types of disruption have emerged with the circulation of information in the conversational spaces opened up by social media: social movements initiated by a hashtag, the viral spread of fake news, the brutalization of public debate, the fragmentation of discussion arenas, etc. With these multiple changes at play, the information system is all too often thought of as a completely deregulated and chaotic market.
Objective and methodology
The project launched at Médialab aims to analyse the structure of this new digital public space, positing that despite its apparent disorder, it does have its own specific architecture of visibility and information circuits. We also seek to understand the architecture of the different levels of digital public space, analysing the media's distribution of authority (through hyperlinks), the reputation of news (through their circulation on Twitter) and, in part, the discussion of news on Facebook.
Corpus and tools
We proceeded to a large-scale collection of publications from a corpus of 400 French media organizations, blogs and news sites to gain further insight into the online news production space. The articles in this corpus of news sites were collected with the tools MediaCloud and hyphe. We also recorded all tweets sharing the articles in the corpus. The project is carrying out a series of analyses based on this original database, in order to identify the different circuits of digital information, detect the places of production and sharing of fake news, and carry out thematic and argumentative analyses of the media coverage of certain events such as the Benalla affair and the Gilets Jaunes.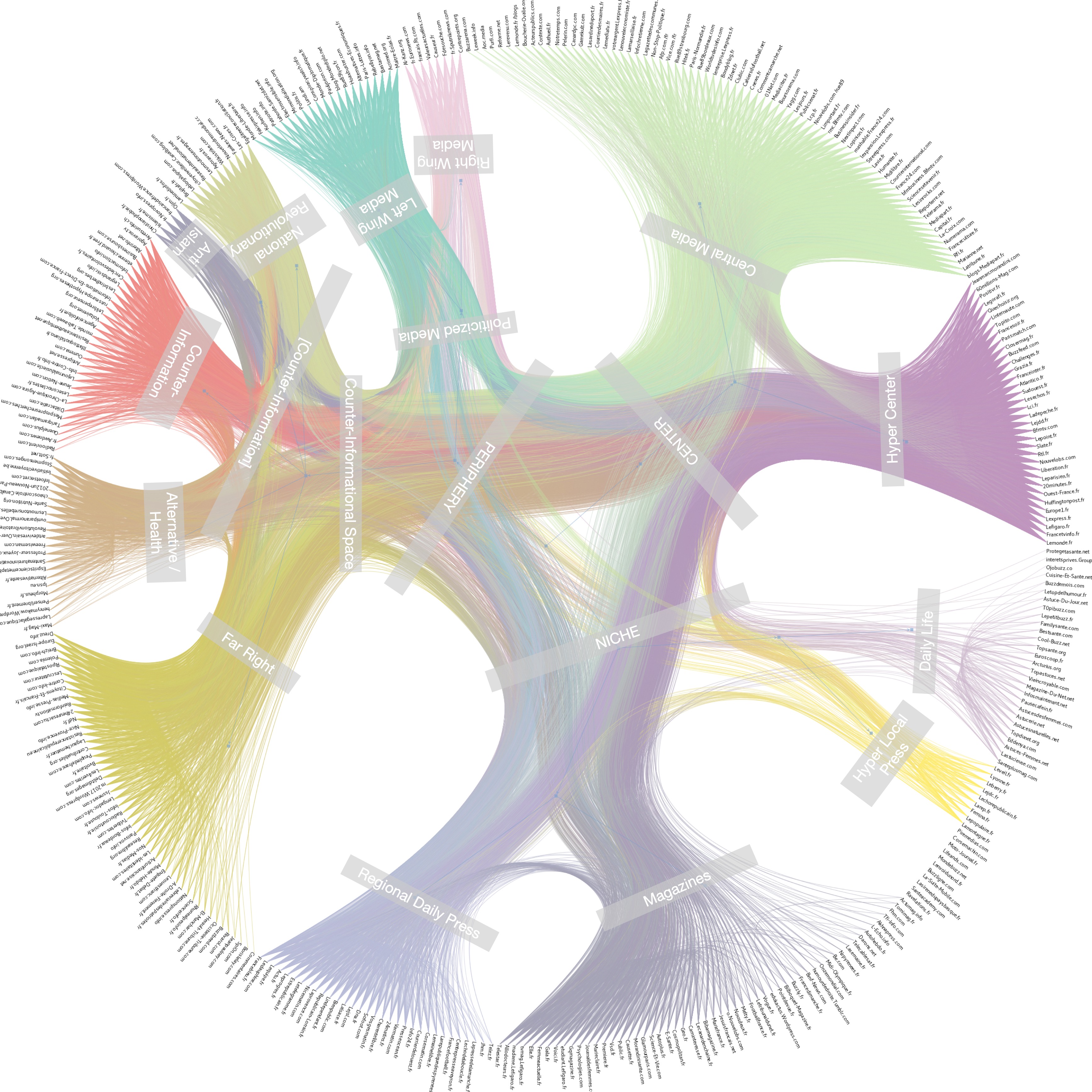 Partnership
This research project is being conducted jointly with teams from the Berkman Klein Center at Harvard and MIT in Cambridge, that are working on the public space in the US, with a view to carrying out a comparative study of US and French transformations of the structure of the digital public space.