Controversy: A User's Manual
Dans son numéro n°15, Cogito le magazine de la recherche à Sciences Po, met à l'honneur l'ouvrage "Controverses Mode d'emploi" dirigé par Clémence Seurat et Thomas Tari.
Most of the challenges facing society today are the subject of controversy. Studying these challenges using specific methodological tools was the objective of a controversy mapping training programme (Forccast) conduced by Sciences Po from 2012 to 2020. More than 20,000 students were trained by this innovative programme, initiated by Bruno Latour. Although the programme is now finished, the book Controverses mode d'emploi (Controversy: A User's Manual) proposes an extension (Presses de Sciences Po, January 2021). Interview with Clémence Seurat and Thomas Tari, editors.
What was the Forccast programme?
Thomas Tari: The programme aimed to design and test active training methods, mainly the mapping of controversies and debate simulation. The idea was to develop a critical attitude by studying scientific, technical, social and political subjects. Thanks to its connection with médialab, Forccast enabled original inquiries to be conducted to produce constantly updated training resources. The learners came from various institutions: Sciences Po, leading engineering schools, universities, high schools, etc. They were trained in methods to help them to navigate through uncertainties, notably on topics about which expert opinions are divided and the production of knowledge is not stable.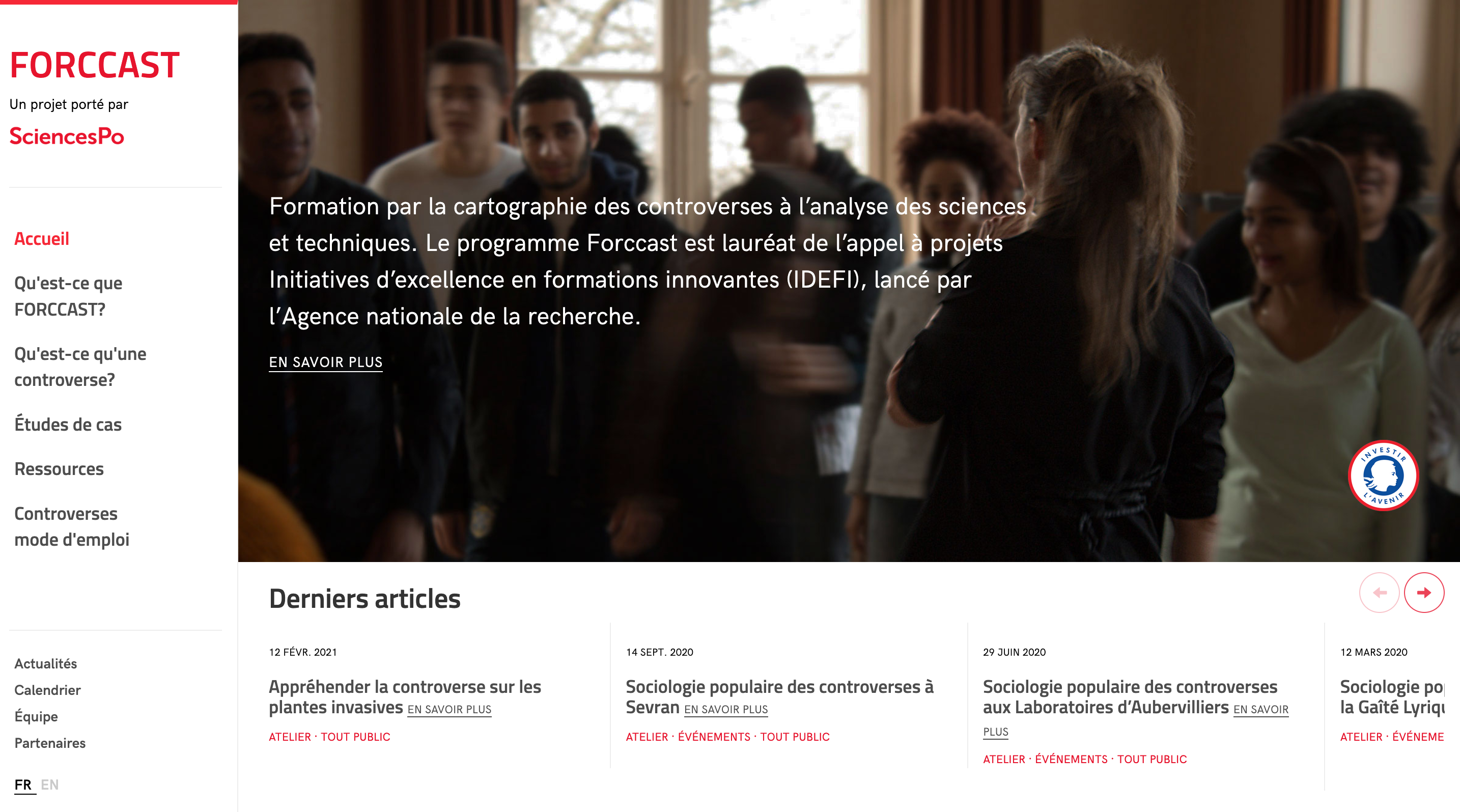 In practice, what were the challenges of this publication?
TT: Environmental crises, health crises and technological innovations have generalised the notion of controversy, which is still widely debated by the social sciences. Some see it as a stage of the construction of a scientific fact, while others insist on the dynamics of public mobilisation or call for a more critical attitude. The book's writers do not claim to settle the question, but wanted to report the value of analysing controversy as a training method and a tool for citizens. We wanted the book to extend and share the programme's results. We therefore chose to present it as an "instruction manual", with five survey examples to illustrate the diversity of controversies and the methods that can be used to approach them.
These can be implemented with students or used by a broader audience of citizens, thus extending two of the Forccast programme's major objectives: to train teachers of secondary schools and higher education establishments to map controversies and to organise popular sociology workshops on controversies in collaboration with cultural institutions in the Île-de-France area. The underlying challenge of this approach is to enable as many people as possible to navigate through situations of uncertainty, by making them aware of the fact that the temporality of a crisis or a technological innovation is not always the same as that of the production of knowledge, which demands time to produce evidence and convince listeners.
You describe a study on rats in Paris. Can you outline the controversy you identified on this topic?
Clémence Seurat: One article is devoted to the Paris rat debate, which is the subject of some serious political quarrels in the city. The proliferation of rats in urban areas has led to much criticism of Anne Hidalgo, Mayor of Paris, for her supposed lack of action; she has had to defend her sanitation efforts on several occasions.
The controversy on rats is mainly focussed on their visibility. Two factors are apparently responsible for bringing this underground population to the surface: the availability of food for survival and the construction work to extend the Paris metro which is destroying their usual habitat and causing vibrations. However, even if more rats are visible in Paris, does that necessarily mean that there are more of them? It is very difficult to estimate their exact numbers, because there is no reliable method to count them. Although pest control companies suggest that the underground world of Paris is home to between 4 and 5 million rats, i.e.1.5-2 rats per inhabitant, other experts propose a coefficient of 1.5-1.7 rats per inhabitant in cities known for good waste management, in spite of being equipped with old, non-concrete drainage systems. Nevertheless, in the past few years, Paris' pest prevention unit has observed an increase in rodent presence in the buildings inspected.
The controversy is also fuelled by the negative image of rodents: they are the subject of tenacious misconceptions, such as being associated with health risks. The reputation of these animals as vectors of disease is not totally unfounded, although researchers have recently claimed that Black Death was actually spread by human parasites and not rats after all. Incidentally, although 600 cases of leptospirosis, a potentially fatal disease transmitted by rat urine, are reported every year, the regional health office, which observes the epidemiology of the disease, has not identified any particular risks in Paris. And no bites have been reported to date.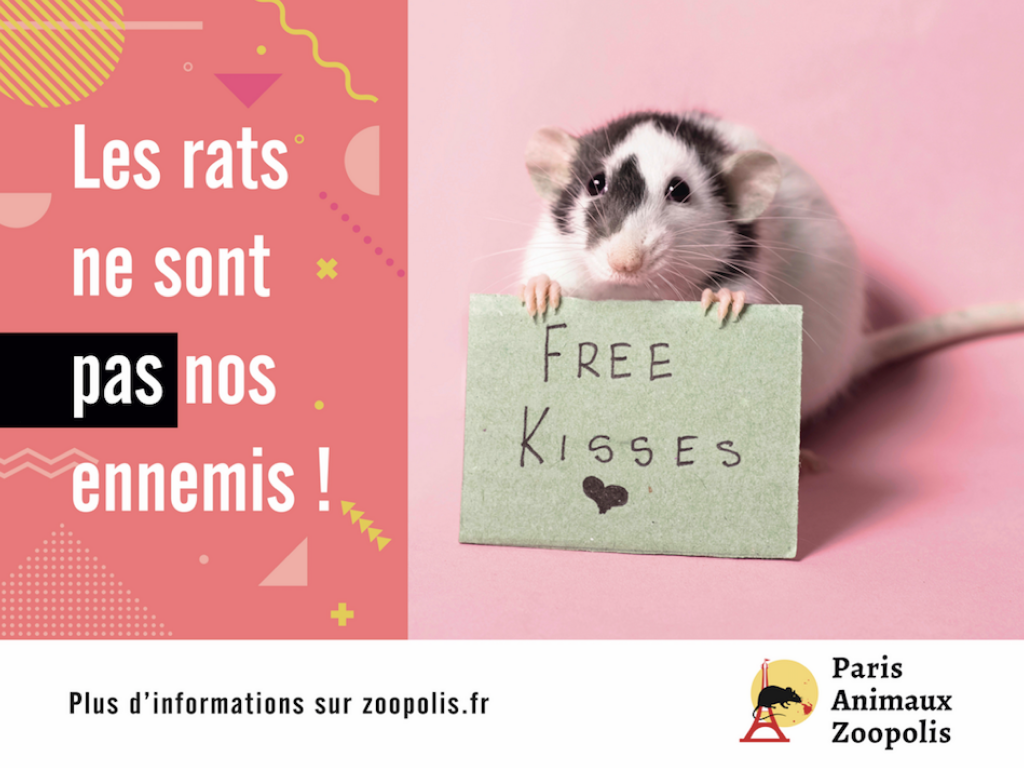 Rats, being associated with disease and poverty, have thus come to symbolise a dirty city in the eyes of the citizens and elected officials who demand their eradication. However, the situation is not that simple: rodents ingest large amounts of waste, thus helping to prevent Paris from being infested with household waste. Although they are considered as pests by their critics, their supporters remind us that not only do they have the right to live simply for themselves, but also that they are part of urban biodiversity and are among the species most useful to humans. The study of this controversy enables us to move away from the Manichean viewpoint that some stakeholders attempt to impose, i.e., that animals and humans should live in two separate worlds, one below and one above ground. Real life, which is far more complex, questions the inter-species relationships, including humans, in the urban ecosystem, i.e., the "entanglements", to use the term coined by sociologist Michel Callon[Michel Callon, "L'Égypte et les experts. Compte-rendu du livre Rule of Experts de Timothy Mitchell " (Egypt and the experts. Review of Timothy Mitchell's book, Rule of Experts), Gérer et Comprendre, 2006.], that expert opinions appear to ignore so easily.
What other case studies are presented in the book?
C.S: The book describes four other controversies: the phenomenon of burn-out and its recognition as an occupational illness, glyphosate and its safety thresholds, the Romainville forest development project and the question of nature in the city, and, finally, deep-sea mining and the links between scientific exploration and industrial exploitation.
The actual history of the book is interesting because it was designed using open-source publication tools. Why was that?
C.S.: We believed it was important that the book's design process reflected the research and experimentations conducted by Forccast. Since we were publishing, extending and developing the Forccast investigation materials and methodology by sharing them with a new audience, it seemed logical to opt for a free, open-source software environment. It also enables the same content to be published on different media: both paper andonline. This choice makes the content available to as many people as possible, and easy to use in school, educational and citizen situations.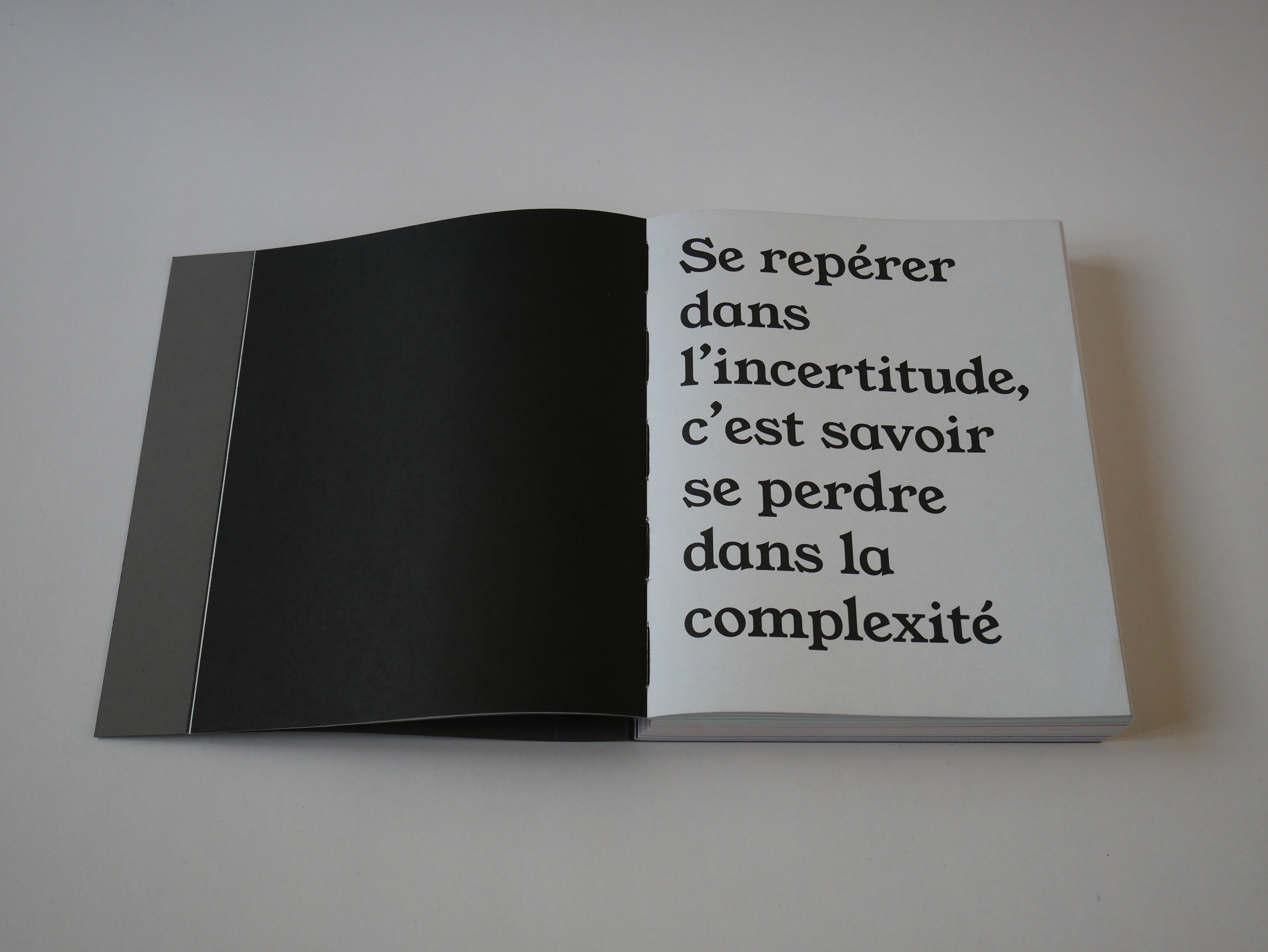 We initially intended to use the softwares developed by the programme, with a few adjustments. But the scope of the project soon required the development of a new tool. Controverses mode d'emploi was produced using Goji, a multi-media publication tool designed by Robin de Mourat, médialab designer, and Paged.js, a free, open-source Javascript library, which enables the creation of printable PDFs from HTML content. The highly experimental editorial process was a great learning experience and full of surprises. Thanks to the efforts of graphic designer Sarah Garcin and our collaboration with Presses de Sciences Po, we were able to produce a lovely book to mark the end of the programme. The book, which exists in two versions, collector and paperback, is also being published as a website. All content will be available online in 2022.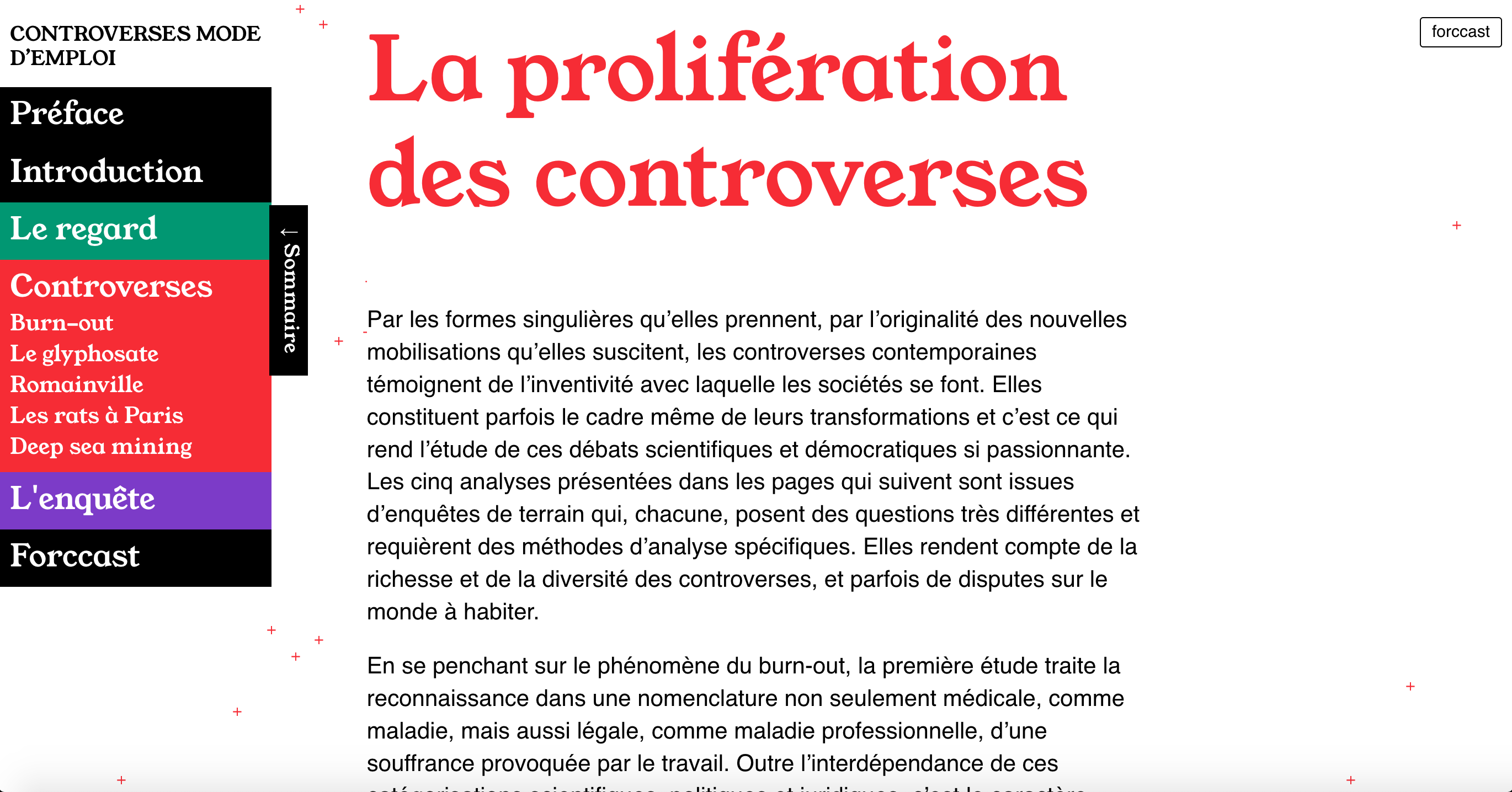 Forccast is an "IDEFI", an initiative of excellence for innovative training. IDEFIs are intended for use as tool boxes for future university training programmes. Is there a successor to Forccast to fulfil this mission?
TT: Forccast has left its mark at Sciences Po. Many courses have resulted from it, such as the College's major second year class, Science and society. Another result of this innovative training programme is the Metis project, at the origin of the double-diploma Bachelor of Arts and Sciences course, proposed in partnership with Université de Paris. This programme, based on interdisciplinary courses, is currently directed by Nicolas Benvegnu, who coordinated and defined the outlines of Forccast. Finally, a new centre for the exploration of controversies, that I direct, in the Institute for Skills and Innovation, extends some of the missions of Forccast while opening new projects, such as collaborations with the Equal Opportunity Programme and partner high schools, to train Priority Education Convention workshop instructors in learning by analysing controversies.