Seeing the Differences : A New History of Information Design
Paul Kahn de Northeastern University, Boston, viendra présenter son travail sur une nouvelle histoire du design d'information au séminaire du médialab
Rendez-vous, Séminaire de recherche
Salle du médialab, 13 rue de l'Université, 75007 Paris
Wednesday March 6th, 2019 Paul Kahn will present his history of Information Design at the médialab's seminar in a talk entitled "Seeing the Differences : A New History of Information Design".
Abstract
Information design is a functional art practiced by every culture in every time period. We will review examples from many domains – theology, art history, physical and social science, engineering and business – to illustrate how information design encompasses the selection and encoding of both qualitative and quantitative data to serve nine general functions.
Cosmology and Theological Narrative
World, Kingdom and City Maps
Transportation
Genealogy and Lineage
Timelines
Scientific Explanation
Economic Trends
Mechanical Controls
Engineering & Business Process
Quantity alone does not make meaning. The algorithms we use to shape data into images do not explain how meaning is transmitted. The psychological rules for optimizing perception do not explain the multiplicity of information design strategies human cultures have devise over many centuries. Our biggest challenge today is learning how to select and shape information to make meaning, not only learning how to write software programs to become masters of all the numeric data we possess. Re-evaluating information design history in this broad sense can help us gain perspective on how qualitative and quantitative information are both part of the information design story.
Résumé
Paul Kahn teaches in the Information Design & Visualization and the Experience Design MFA programs at Northeastern University, Boston. His portfolio includes clients in the biomedical field, literary publishers, large cultural institutions and international corporations in the US and Europe. He served as Experience Design Director at Mad*Pow from 2012-2018, where he worked in the technology and healthcare sectors. Before this he spent a decade working in the design community of Paris, France, where Kahn+Associates was the first agency focused on information architecture. In the 1990s he led Dynamic Diagrams, an information design agency in Providence RI and taught at Rhode Island School of Design. Early in our digital transformation, he was part of the hypertext research team at Brown University's Institute for Research on Information and Scholarship.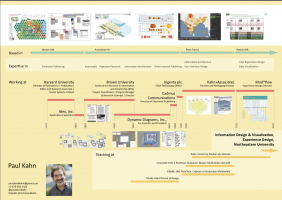 Practical information
Wednesday March 6th, 2019 – 2pm to 4pm.
This seminar is open to all within the limits of available places. Please register in advance.
Seminar venue : Salle du médialab, 13 rue de l'Université, 75007 Paris